the buildup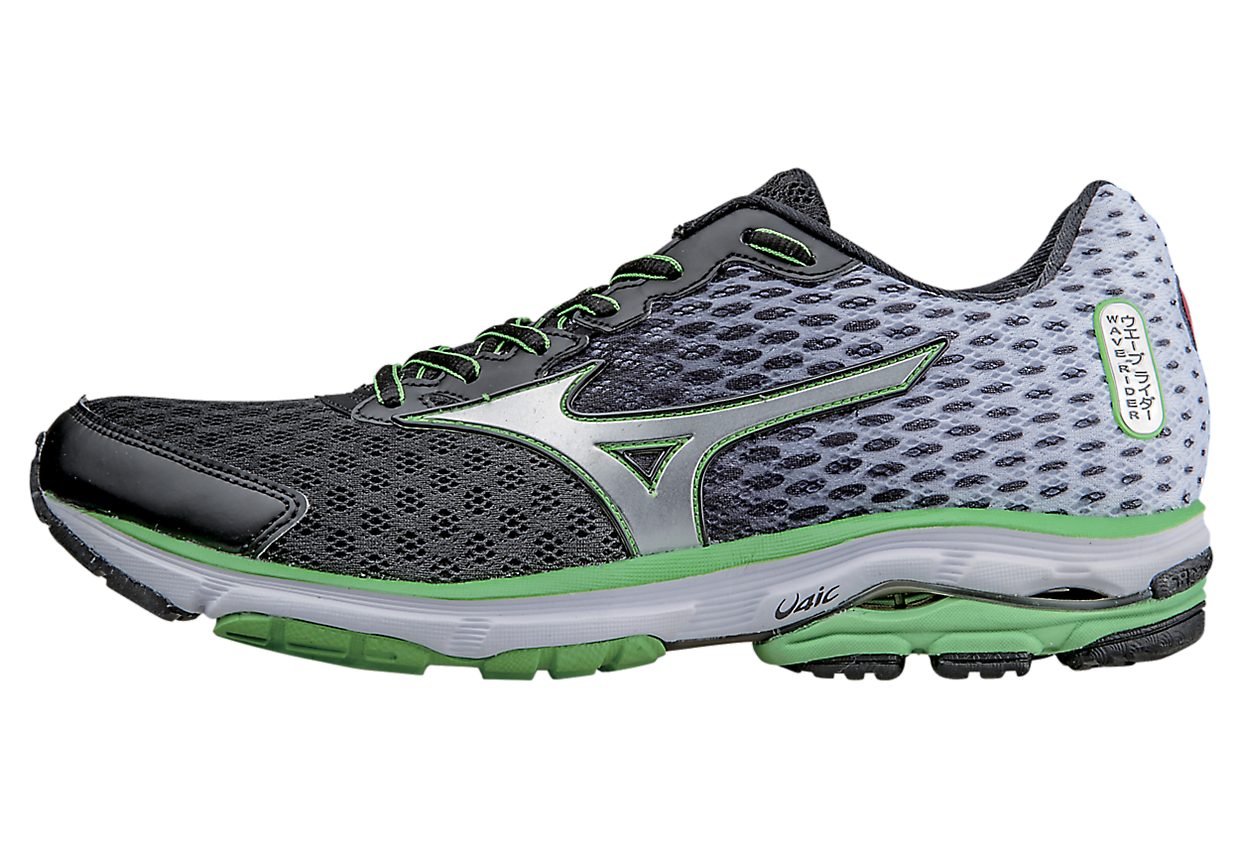 So for those who don't know, I'm a huge Mizuno fan. I never really thought about their shoes before becoming a runner, doing the typical American thing of paying attention to Nike, Adidas, Reebok and maybe New Balance. Mizuno isn't a big advertiser in the US, and I wasn't into being other than sedentary for a good chunk of my life. They're actually pretty active in their specialist niches of baseball and golf, but still not hugely so in running (though they have some great grass roots campaigns like the Mezamashii Project and the "What If Everybody Ran" campaign where you run with their "baton" app and your miles translate into donations from Mizuno – 87,000 miles were run for charity in total this year!).
So if I wasn't into or even really much aware of their products, how did I become a huge fan? I follow the blog Runblogger (an absolute must-read for anyone even remotely interested in running), and I found that Pete, the owner/main writer, and I have very similar tastes in shoes. He was a fan of the Adidas adiPure Gazelle, which I picked up based on his review, and was totally smitten. So when he later reviewed a pair of Mizunos with similar kinds of things coming across in his description, I felt I needed to give them a try (my Adidas were wearing out much faster than I expected – the uppers were too loose at 40 miles of use, which is not cool at all), so I was keen to switch to something else). That shoe was the Mizuno Wave Evo Cursoris (just rolls off the tongue), which I picked up from Running Warehouse (great online retailer, by the way), and was really blown away. Definitely read my review of the shoe – it's one I continue to love on every run. My one issue with it is that Mizuno discontinued the entire Evo line (their minimalist-style shoes). They did a version 2.0 of two of the three Evo models, but never released it in the US, so I've been buying up whatever clearance stock I can find in my size of the 1.0 and 2.0 (found a European retailer that ships free to the US) in my size. I prefer the 2.0 given some changes they made to the upper, but I literally can't find it in my size at all anymore (I was able to get 2 pairs).
That's enough background on why I love Mizuno, but I do. So how did I end up reviewing this very traditional-looking shoe if I'm a minimalist kinda guy? I'm a FitFluential ambassador, and was lucky enough to be chosen to receive a pair from Mizuno to review. So here we are. I've run in this shoe both inside on the treadmill and outside. You can actually watch my treadmill run since I recorded an episode of my podcast doing a live review of the shoe. I thought it would be a fun way to get my real first impressions of it as I was being firstly impressed upon by it.
Full disclosure: this pair of shoes was provided free of charge by Mizuno for the purpose of this review. The views and opinions are my own. And, as always, I'm never going to recommend something I don't like or believe in, so know that what you're reading is very real.
my impressions
The shoe is very nice. It's light(ish), very well constructed (seriously, I can't imagine this thing biting the dust before 450 miles or more), stylish without being weird, and packed with useful technology. The weight is just 9.2 ounces for a men's size 9 (I sampled the 9.5, which is my typical size for Mizuno, but I generally wear a 10 in other brands). In my video comparison, I talk a lot about the Saucony Kinvara. I realized this isn't a good comparison point (the Mizuno Wave Sayonara is probably more aimed at the Kinvara). The Saucony Fastwitch is probably more accurate to compare the Wave Rider against. In either case, the Saucony is lighter (the Kinvara is 1.5 ounces lighter – I'm not sure about the Fastwitch). Saucony has done some pretty amazing things with the laws of physics to get their shoes sort of oddly light. Mizuno did well enough, but Saucony definitely beats them on weight. Still, I wouldn't say I found the Wave Rider 18 to be heavy. I'm about 6'2" and 180, so perhaps if I was a more, um, lithe man, I'd notice the weight more, but I don't think that they'd ever be a problem.
Mizuno talks about Hado, a Japanese word that sums up their approach to the shoe. It's about the vibrational life energy behind transformations. What? No, seriously, if you stop and think about it, this makes a lot of sense. The technology and design approach all work together to give you a light shoe that transfers energy beautifully to move you through your run. And running is transformative for your mind, body and soul. Literally. Seriously. So the idea behind the design approach makes a lot of sense and it really shows in the shoe. That said, I find that this shows in every Mizuno shoe, so this is really a case of the Rider not being an exception more than being some new breakthrough where Mizuno is hitting its stride (no pun intended).
As for the tech, the first thing I'd mention is the Wave plate. But I'll mention that second because we're talking about weight. A key tool Mizuno has been using to drive weight down is their U4ic (get it, "euphoric"? Yes, I did look at it about a year ago, and say, "Huh? You for eye see?" I'm quick, apparently.) U4ic is a foam Mizuno developed that's thinner than traditional EVA, yet has similar (or better) absorption and energy return properties. It replaced the AP+ foam they were using, and cuts 30% of the weight out versus AP+. The result is better cushion per ounce, allowing for the same cushion and spring with less weight. Several brands have similar foam technologies employed. They all have applied some marketing name to them. I have U4ic on all Mizunos I run or have run in, and find it to be a really nice foam.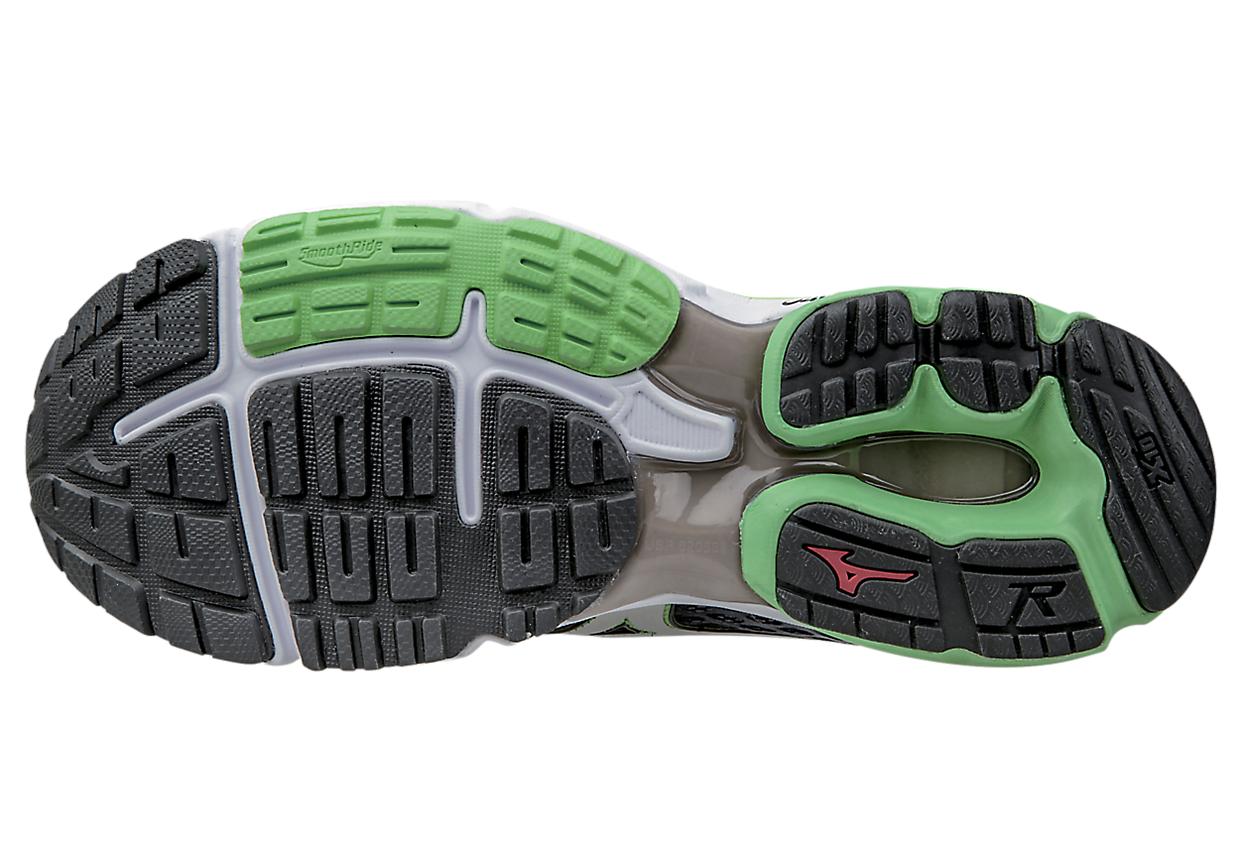 As for the Wave plate, that's Mizuno's thing, like Air is Nike's (or Lunarlon, too). It's a plate that runs from the heel, then has two arms extending the mid-foot area (a Double Fan Wave, in Mizuno-speak – see the grayish area coming from the back through the middle of the shoe). There's also a forefoot Wave plate. The purpose is to provide a springy pop and transfer energy effectively through the shoe to aid your stride. The version in the Evo line is in the mid-to-forefoot area of the shoe since they're meant for toe striking, with no Wave plate in the heel. I have found the Wave plate to do what it's meant to do, and do think it's a useful piece of technology. I can't say for certain since I have no way to run in the same shoe with and without the plate, but energy transfer on Mizunos has always felt great to me. I describe my Cursoris as disappearing as I run faster – it's like they come alive as you move quicker. I think the Wave plate has a lot to do with that. Here, it's present in the heel, and visible when you look at the bottom of the shoe. I felt a good energy transfer and a lively movement with the Wave Rider (and I did in the Wave Sayonara, which also has it in the heel).
The shoe also features Dynamotion Fit, which is Mizuno's approach to shaping the shoe so that it stays with you through the entire stride, including striking and lift off. It's more than just shaping, but also building the shoe to deal with the stress of striking so that it doesn't deform, and thus stays with you through the stride. I don't know what they're doing specifically here, but I do know that I've never had an issue with Mizunos shifting around, slipping, etc. I definitely have experienced that with other shoe brands. So, whatever they do to make Dynamotion Fit a thing, it's working very well across their line, and the Wave Rider 18 is no exception. Also, there's no heel counter on this shoe, nor does it need one. The heel is really nicely designed and shaped, and was super comfortable. At least for me. Overall, the shoe fits really well and that fit was maintained throughout the strike, meaning less chance of blisters or hot spots.
The upper features a good, breathable mesh. I found my toes to be really comfortable in them, as in other Mizunos. The mesh isn't as open as in the Evo line (you can see your socks inside in Evos). One major ding I gave the Gazelles and other adiPure shoes is how hot they get due to being closed lycra (or lycra-like) material. Not an issue here. My feet were nice and comfortable all around. This is a bigger deal than you may think – hot feet are more likely to develop blisters and aches due to the sweating.
The last thing I'd mention is that the Wave Rider 18 was very forefootstrikable. Yes, that's a word. OK, no it isn't. But I mean I could very easily toe strike in them. That can be tough for a shoe shaped like this with such a big heel-toe-drop (12mm is what they're reported to have, but it seems far less than that in person or when running). For comparison sake, I had trouble toe striking in the Kinvara 4, and that is softer and has a much lower drop. I had no trouble in the Wave Sayonara, either, so I'm thinking kudos are in order to Mizuno for building a traditional shoe that can accommodate different running styles so well.
So, essentially, you have a very nice shoe that fits well, has a good neutral approach (not over-built, not minimalist) that should do well for many runners, and is packed with features that really seem to benefit the performance while not adding a lot of weight. Good stuff.
my depressions
The one thing that stuck with me through both the indoor and outside runs was how firm the shoe felt. Now my comparison point may be a bit unfair since I generally run in minimalist shoes. And by, "generally," I mean, "exclusively unless I'm reviewing something." And my favorite shoes (anything in the Evo line) are so compliant that most traditional looking shoes are too firm to me. The one exception I can think of is the Saucony Kinvara, but that's known for being a pretty mushy shoe (that's usually the main thing people don't like about it). If you like a firm shoe, then you probably would have no issue with the Wave Rider. I don't, so it bothered me a bit. I ran fine, but it just didn't feel as natural to me as I wanted it to. My Achilles tendons also hurt quite a bit within about an hour of running in the Wave Rider. Don't read too much into that – this is because the shoe is a departure from what I put most of my miles in, so my body needed to adjust to it. I didn't do that, so I ended up with some pain I probably could have avoided by slowly adding distance starting with a casual mile. I didn't run a ton in them (2.2 and 2.6
miles
), but I ran them fairly fast for me (especially the 2.6, but I finished the 2.2 at 10 mph or a 6' pace versus my typical 8'ish pace).
Why do I think they're so firm? Well, I mentioned the Wave plate above. It's possible that the Wave plate being in the back is meant to aide heel strikers, and for a forefoot striker, it's creating higher levels of firmness in the shoe. It's possible I'm wrong, too – I'm speculating here. The other reason I would guess is part of why the shoe is going to last so long. It has full rubber coverage of the strike area, and that rubber has good thickness to it (part of why it's heavier than the Kinvara, which has a lot of EVA+ on the sole to save weight). Rubber is stiffer than foam (I know, shocking, right?), so the shoe is naturally going to be firmer. Mizuno solved for this with the sole of the Sayonara a bit by designing the rubber application differently. But the Rider's rubber is definitely creating a stiffer shoe than if it was thinner or less pervasive. I'm not knocking it, just noting it. It's a choice – what do you want in a shoe?
to buy or not to buy
So what do I think in terms of recommending this shoe? I was very impressed by it. I think it's a great shoe, for sure. I would recommend it in a heartbeat. But not for everyone. I would want to know what you prefer in your shoes in terms of firmness. I have a friend who tries to get the firmest shoe she can find. She would probably love these. I have a friend (ok, me), who doesn't really take to firm shoes so well, so I would not buy them myself. If you want a firmer shoe that will wear really real, be very comfortable, breathable and light enough, it's pretty hard not to recommend the Mizuno Wave Rider 18. If that's what you want, then they can be a key tool to help you enlighten.your.body.